Importance Of Super Markets In The UK And 10 Best Cheapest Supermarkets In The UK
Supermarkets are a center of activity for towns and cities. However, people do not realize the importance of supermarkets in the economic world. A large section of the population will depend on supermarkets for all the household items and foodstuffs they need in their lives.
Introduction About The SuperMarkets
A supermarket is a retail shop. It has to be on a large scale, with all kinds of items stocked at all times. There may be groceries, hardware items, etc. A supermarket will have very few staff working at any time and is usually based on customer self-service. Supermarkets can always be found in busy centers, and a wide assortment of goods is always available. The prices of goods are often lower in a supermarket. All this makes supermarkets convenient places for customers to shop.
In the modern world, there are different kinds of supermarkets emerging. These supermarkets will cater to different needs. For example, some supermarkets cater to vegetarian customers while also being eco-friendly. However, most supermarkets in the UK are trying their best to become eco-friendly to reduce the overall carbon footprint. In the UK, supermarkets have become a social activity and shopping hub. They are perfect for grocery and household shopping that is affordable.
Importance of Supermarkets in the UK
In the UK, the size of supermarkets depends on where they are located. This is because they are essential centers in all locations but do not have the same products, even if they belong to the same chain.
In the city, markets are smaller in size. There are more supermarkets placed in the central area of the city.
City supermarkets are often smaller and will have a smaller range of products.
Customers often visit more than one supermarket at a time to find all they need.
The smaller size ensures it does not dominate the entire area, and other businesses also have space for their shops.
The supermarkets available in the cities give customers a chance to explore different shops with various products.
Supermarkets are also found at the edge of cities and towns. These are larger than those in the cities. But only one or two of this size are in the same area.
There are not many stores or markets at the edge of cities or towns. So supermarkets are much larger with more products.
The supermarkets make it easier for residents to shop for groceries or other household items that they may need.
With fewer shops, the size of supermarkets is much more significant.
They offer a wider variety of products, and customers often find all they require at one supermarket.
The variety makes it easier for customers – they do not have to drive around to different markets much farther from each other.
The different supermarkets have been designed specifically for their location and customer base. They also help the economy in which they are based. They meet the customers' needs while also helping the economy around them grow. The city supermarkets help their customers find their needs and also help other supermarkets gain profits.
10 Best and Popular Cheapest Supermarkets In The UK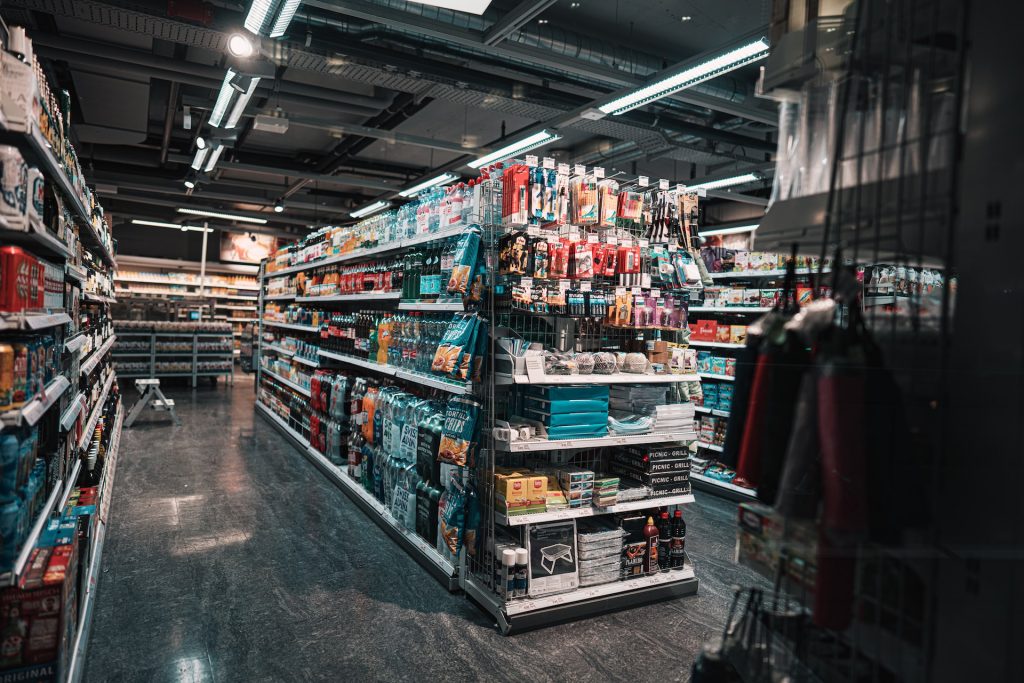 The UK has a huge list of supermarket chains that have dominated the economy and the market scene. Many have existed for a long time, evolved, and still have a large customer base. Here are the some of top-rated cheapest and budgets supermarkets in the united kingdom.
Tesco Supermarket
Tesco emerged as a brand for the first time in the 1920s. Since then, it has evolved into the multinational company it has become. It is a British multinational grocery company that has expanded over the years and now has several kinds of stores across the country. The Tesco supermarkets are one of many stores, including hypermarkets, Tesco express, online stores, etc. Tesco supermarkets have a large stock of different kinds of food items. But for household items, hypermarkets are known to have a more extensive stock.
ALDI UK
Aldi is not a single store but two stores that were created in 1946 in Germany. It is a family-owned business that the two brothers inherited from their mother. They then split the store into two and founded two separate companies. Both branches of Aldi have supermarkets internationally. And in the UK, Aldi supermarkets are known for their discount supermarkets all over the country. They provide good quality groceries for discounted prices, helping customers find all the groceries they need.
M&S Food
Marks &Spencer is an international retailer selling various home products and food. It is a British company with stores and supermarkets in most of the USA. It was founded in 1884 and since then has expanded exponentially. The supermarkets provide groceries, clothing, and household items for customers.
Morrisons
Morrisons was founded in 1899 in England and started as a small stall. Since then, it has grown and is not considered the fourth largest chain of supermarkets in the UK. It has undergone many changes in the years since its establishment. But it remains a supermarket chain that provides various services, including home delivery service in recent years for people unable to go to supermarkets.
Sainsbury's Supermarket
Sainsbury's was once the UK's largest supermarket chain but was overtaken by Tesco. As a result, it is not considered the second-largest supermarket chain in the UK. Since its establishment in 1869, it has gone through several declines and comebacks in the different decades. Currently, it has supermarkets all over the UK, and they offer a variety of products and services.
Co-op Food
Co-op Food has gone through rebranding to make it what it is today. It has several supermarkets across the country. It is yet to expand internationally, but its local supermarkets have a large customer base that has not diminished over the years. Their markets also have a stock of low-price range items and vegan-friendly items.
Iceland
Iceland is a British supermarket chain focusing primarily on providing frozen food. This includes a variety of meat and vegetable products that are available throughout the country. It also has a section for fresh produce. It opened a business in 1970 in England and has expanded within the UK since then.
Lidl
Just like Aldi, Lidl was also created in Germany. It also offers discount supermarkets stocked with a variety of groceries. It has supermarkets internationally in Europe, the UK, and the US. Unfortunately, the company has had lawsuits against them for not respecting its workers' privacy. But since then, it has successfully come back and created one of the largest supermarket chains in the UK and Europe.
Asda Supermarket
Asda is a supermarket chain that was established in Yorkshire. It started as a small family-run business. Over the years, it grew and merged several companies and bought a few others to create the Asda known today. It was the largest supermarket chain until 2014 when it dropped to become the third largest supermarket chain in the UK.
Waitrose Supermarket
Waitrose was founded in 1904 and is a British brand of the supermarket chain. It has supermarkets as well as convenience stores across the country. The brand also provides certain grocery items to members of the Royal family of Britain. Waitrose has an online store and exports to other countries globally as well.
Conclusion
Supermarkets are not just markets in the UK. They grow to become chains, brands, and companies. They can grow from a few shops on the street to a company with international stores and customers. They provide citizens with groceries, household items, beauty items, etc., which can also be found in their online stores. They provide delivery services for their brands and always try their best to meet their customers' expectations.
These brands of supermarkets take their work seriously and try to improve services to make shopping easier for their customers. This helps them build a loyal customer base that will keep using their products even if they change companies or rebrand. All these brands mentioned had to struggle in their initial phases. None of them met immediate success. But with hard work and patience, they became one of the biggest supermarket brands in the UK.