Many people in London used to love fish and chips. For making the best fish, the batter coats a fresh fish fillet in a single layer and makes sure to balance the oil, frying time, and temperature, giving the fish a crisp golden color. After eating this, your mouth will be full of taste and eager to eat more. Everyone loves different kinds of fish and even different parts of the fish. But the process of cooking style remains the same to get the perfect golden color on fish.
These restaurants remind them of conventional things by providing the interior in a classic style. There are different types of wines and fish and chips, which makes it more delicious. All these restaurants started from small stalls in various parks, and as time passed, their quality improved. As a result, today, they own a restaurant with one of the best qualities of meals served, and they don't forget the traditional method of cooking and interiors. Every restaurant tries to give an adequate quantity of meals at an affordable rate. In this article, you will know about the 10 best Restaurants and places to have fish and chips easily with a crispy taste.
Best Places and Restaurants for Fish and Chips in London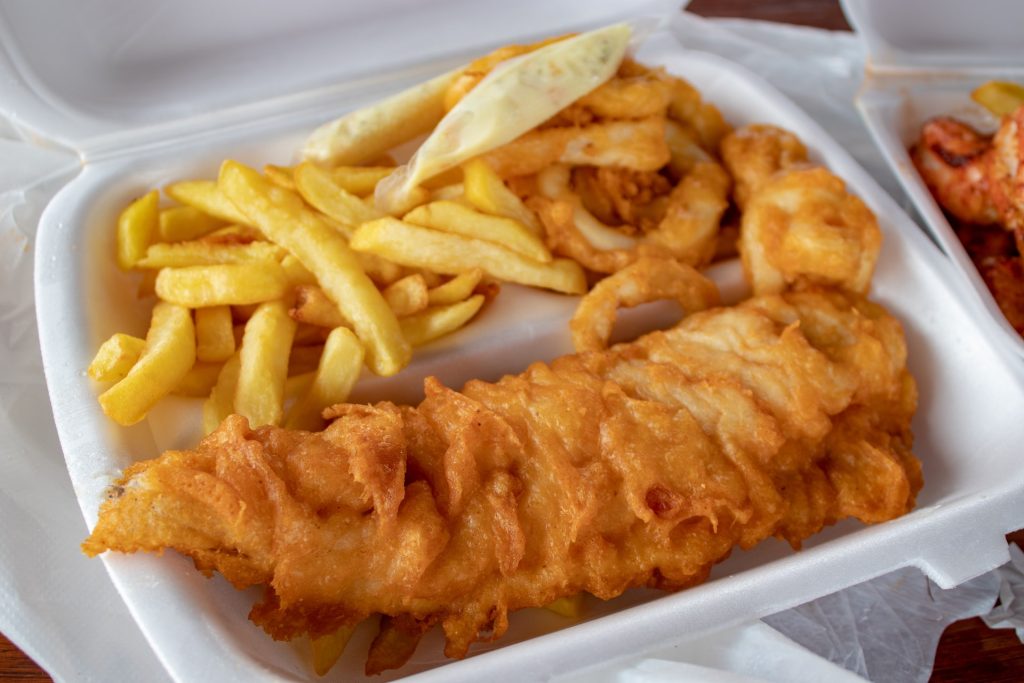 Hook Restaurant
The people who love to do experiments with their food can come to Hook and enjoy their meal. It was started as a Dublin Market stall in 2011, and within no time, Hook became famous for its new school take on this British favorite. After some time, they tried the traditional cooking style, and their food progressed.
Why Do You Visit Hook?
The Hook serves fish coated in panko breadcrumbs and seasoned with chips, including special seaweed salt.
Whatever things are filled here are made from scratch, and all its ingredients come from 100% sustainable suppliers.
They do not harm the environment by using non-biodegradable items, and they give cutlery that is made up of corn starch.
Sweetings
The interior of this restaurant is built in the old Victorian style. The restaurant has many mirrors and marbles, which elevate the beauty of the restaurant, and it is sufficient to make you fall in love with the dish. If you are roaming in search of a good meal of fish on weekends, then you can come and have a great experience here.
Why Do You Visit Sweetings?
They have an open kitchen with seating counters, so you can watch your order from making it to your plate.
They offer traditional beer, battered fish, and chips, making them memorable, and options from oysters to lobster.
This restaurant even offers an exclusive wine list, and most people choose white wine to accompany their fish dishes.
Kerbisher and Malt – London Restaurant
A person who is in deep love with the chip can surely come to Kerbisher and Malt. This restaurant is owned by brothers- in law Saul Reuben and Nick Crossley. The Kerbisher and Malt shop combines custom and contemporary. For fish, they have options of haddock, cod, plaice, or coley, and even you can customize your cooking style like you want deep fry in batter, cooked or grilled in matzo meal.
Why Do You Visit Kerbisher and Malt?
They serve chips by double frying them at different temperatures to give a perfect texture to them.
Make sure to taste their home-brewed beer.
They can cure your craving for chips and fish.
Poppie's Restaurant
This restaurant is owned by Pat Pop Newland, and this restaurant is becoming famous throughout London. At the age of 11, Pop started his career in the fish and chip industry. He started a part-time job of cutting up copies of The Daily Mirror to wrap food in it.
Why Do You Visit Poppie's Restaurant?
After 67 years, they serve in a dinner-style chip shop filled with childhood memories of Pop, and it is called Poppie's.
They have jellied eel, mushy peas, and prawns with cocktails on their menu.
For fish, they have haddock and cod to include plaice, lemon sole, and halibut.
Toff's of Muswell Hill
This restaurant was established in 1968, and it has won numerous awards in North London. People come here to have some good and crispy snacks of fish and chips.
Why Do You Visit Toff's of Muswell Hill?
They offer varieties of fish at an affordable price and with great taste.
The most delicious dish in the restaurant includes taramasalata, rainbow trout, and spotted dick with custard.
The staff of this place is too friendly and humble.
The Mayfair Chippy
If you are searching for a portion of British food with some contemporary interior, then The Mayfair Chippy provides both things in a single place. The Mayfair Chippy is popular because of its delicious fish and chips. So take a break from your hectic day and spend some time here.
Why Do You Visit The Mayfair Chippy?
The classic menu includes shepherd's pie, fish cakes, and rib steak with some offers.
For the fish section, they have oysters, soft shell crab, and mussels on the menu.
This restaurant has multiple sub-branches in The City and Clapham.
Golden Union Restaurant
This place is perfect for people who either want to takeaway or want to have a quick lunch. This restaurant is fuss-free. This company succeeded by catching fish in the North Atlantic and potatoes harvested in Fens of East Anglia.
Why Do You Visit Golden Union Restaurant?
Golden Union has a retro LED light, a fabulous jukebox, and a dining table to make people hungry.
The staff serves some homemade sauces with their secret recipes.
Perfect spot for having a quick lunch.
Olley's Fish Experience and Chips
Dickens' Oliver Twist inspired the name. This restaurant gives a feeling of 19th Century Britain because its interior is created in such a fashion.
Why Do You Visit Olley's Fish Experience and Chips
They give the taste of more than one fish and chips.
The nongreasy chips and the sustainably sourced fish will hit the spot.
You can enjoy the last summer sun, then avail the takeaway facility and enjoy the view from Brockwell Park.
Seafresh Restaurant
This place is for foodie people and if you are searching for fresh items. They take fish from T.Bush at Billingsgate Fish Market and potatoes from Masters & Co. Ltd. They focus on freshly cooked items.
Why Do You Visit Seafresh Restaurant
Seafresh gives a guarantee for providing top-quality foods from reputed sources.
They offer meals like chargrilled halloumi, lamb cutlets, and octopus salad.
They majorly focus on the quality of the meal.
The Chipping Forecast
The Chipping Forecast has two branches in London, one in Notting Hill and the other in Soho. It started as a market stall on Berwick Street in 2016, and its fish got sourced from Cornish fishermen.
Why Do You Visit The Chipping Forecast
Their chips are hand cut and triple cooked in beef dripping.
Other famous items of this place are crab mac with cheese, superfood salad, and deep-fried mars bars.
Conclusion
Above all, ten spots have their unique way of cooking fish and chips. Some restaurants believe in double frying while some fry it thrice, whereas some of the restaurants even fry these items in beer. Almost every restaurant has a beautiful interior, increasing the craving for crispy fish and nongreasy chips. Some restaurants have multiple branches throughout London, while some of them have exclusive restaurants. Each restaurant has some source for getting fresh fish, lobster, oysters, octopus, and directly harvested potatoes. Even to give some unique flavor to their dish, the chef adds homemade sauces made from their secret recipes. Due to this, people are getting modern day by day, so they forget their traditional lifestyle.