For someone who's addicted to Sushi, an all-you-can-eat buffet is a gift sent from heaven. As more people get charmed by the complex flavor and smooth texture of sushi dishes, more restaurants are offering irresistible deals to indulge Sushi lovers. Before you rush to the streets of London in search of Sushi joints where you can eat until you get tired at a flat rate, you should know that not all Sushi is created equal. Some chefs are gifted in the area, they know the perfect ingredients to craft Sushi that give you unforgettable eating experiences.
We are happy you take you through some of the best restaurants in London that offer an all-you-can-eat Sushi buffet. It doesn't matter if you love pairing your Sushi with sake or a glass of classic wine, no one enjoys paying exorbitant rates for Sushi or any kind of meal. Restaurants included in this collection charge reasonably. We were largely influenced by customer reviews when selecting Sushi joints to include. Sit back and let us take you through the top 10 Sushi buffet restaurants in London, by the end of the journey, you'll have several options the next time you want to take friends for a delicious get-together.
Best Restaurants To Eat Sushi Buffets in London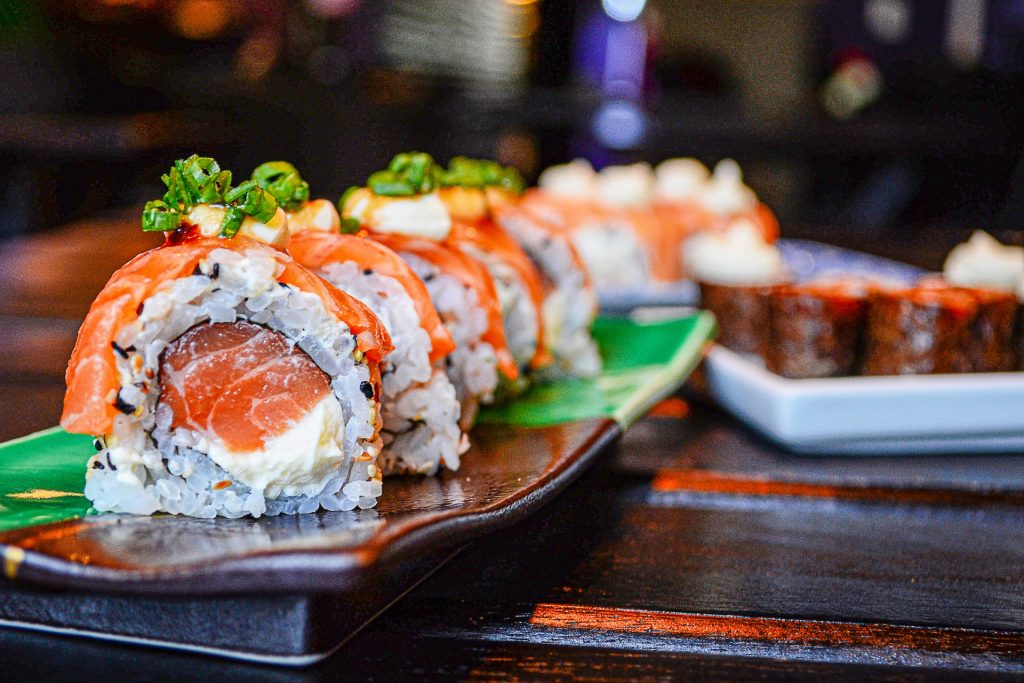 1. Sushi Cafe, London
If you thought all-you-can-eat restaurants offer low-quality food, think again because Sushi Cafe may give you a surprise of a lifetime. They offer several combinations of high-quality, authentic, and mouthwatering Sushi. The Sushi Cafe has an extensive buffet menu with more than 50 dishes. You'll not fail to get something delicious to eat even if you are a picky eater. They also serve other authentic Japanese dishes like Vegetable Tempura, chicken katsu, Teriyaki, Sashimi, and many others.
Address: Access via 555 Battersea Park Road Wandsworth, London SW11 3BL England
2. Ai Sushi
For the last 16 years, Ai has been providing London residents and visitors variety of authentic Japanese food. It is one of the few top-quality Japanese restaurants in London that offers an all-you-can-eat sushi buffet. If you plan to go there, make sure you are hungry and it'll help if you carry some friends along. Although Sushi is the highlight of the menu, there are delicious dishes such as Sashimi, veggie gyoza, veggie tempura, mochi, and other authentic Japanese meals. The staff is amiable, the food is fresh, and the price will not put a hole in your pocket.
Address: Access via 830 High Rd, London N12 9RA
3. Roka Canary Wharf
Roka overlooks Canada Square, perfect for an outdoor eating arrangement. Other than the popular sushi, Roka offers a variety of Japanese cuisine. This is a vegetarian and vegan-friendly restaurant, so don't be afraid to come with a friend who is not into meat or fish. The are several 5-star reviews by previous customers of the Roka. The majority of customers were happy with the delicious food and exceptional customer service. They have a well-stocked bar, just in case you or your eating buddy is thirsty.
Address: Access via 4 Park Pavilion 40 Canada Square 40 Canada Square, London E14 5FW England
4. Hi Sushi, London
Hi, Sushi is a cozy Japanese restaurant that serves Sushi and a host of other mouthwatering dishes such as Sashimi, tuna, salmon, sweet prawns, and nigri; there is something for every palate. The restaurant has outdoor seating and also provides takeout services. If you are planning to have a relatively large company for the buffet party, make reservations ahead of time.
Address: 40 Frith Street, Soho, London, W1D 5LN
5. Inamo Restaurant, London
This is an award-winning restaurant popular for tasty Japanese, Chinese, Korean, and Thai dishes. They offer a unique dining experience, the tables are computerized; you can order via the tablet and enjoy computer games as you wait for your food. The Sushi tastes great, it is affordable, and best of all, you can eat as much as you would like.
Address: Access via 265 Hampstead Road Camden, London NW1
6. Super sushi, London
If you are looking for a cozy Japanese restaurant with affordable quality Sushi and other foods, Super sushi may be the perfect place for you. Although popular for sushi, this restaurant offers a wide range of authentic Japanese cuisine, from Tempura to vegetable spring rolls. It offers a fresh all-you-can-eat sushi buffet at affordable prices compared to similar eating places. Don't be afraid to come along with a friend who is not into fish, there is a variety of hearty vegetarian and vegan dishes they can try out. Don't worry if you are on a Gluten free diet, there are delicious options for you.
Address: Access via 89-91 Old Church Road, Chingford, Waltham Forest E4 6ST England
7. Aroma Buffet, London
Just because it is a buffet and you can eat as much as your stomach can handle, doesn't mean you shouldn't have a first-class eating experience. Aroma Buffet offers excellent customer service for all categories of eaters. They have several options for desserts, starters, main dishes, and good wine. For days when you don't feel like helping yourself self to sushi, there are varieties of dishes, including sweet and sour chicken, barbecue chicken, beef in black bean sauce, orange duck, prawns, shrimp, tempura, noodles, e.t.c.
Address: Access via 12 Trinity Square, London W12 8PP, United Kingdom
8. Tokyo Diner
Who said you can't have a taste of Tokyo in London? The Tokyo Diner offers a warm atmosphere for guests and delivers an exceptional all-you-can-eat sushi buffet. It also serves other tasty Japanese dishes such as noodles, curries, soup, and fish. The restaurant works until midnight, just in case you need a late-night meal. However, the only downside is that they don't serve Tuna dishes (as a matter of policy as regards sustainable fishing).
Address: Access via 2 Newport Pl, London WC2H 7JP, United Kingdom
9. Iro Sushi
Iro Sushi is known to offer traditional sushi and other Japanese-inspired dishes at reasonable prices. They provide plenty of options as regards flavors and the nature of dishes. They endeavor to use quality ingredients that greatly affect the flavor and taste of the final product. If you are looking for a place that serves a decent sushi buffet, you may want to try out Iro Sushi.
Address: Access via 3 Bramlands Cl, London SW11 2NR, United Kingdom
10. Sapporo Ichiban
Sapporo Ichiban not only offers delicious sushi but also cooks traditional Japanese cuisine such as shrimp tempura, nigiri, sashimi, e.t.c. They are known to offer exceptional customer service.
Address: Access via 13 Catford Broadway, London, England, United Kingdom
Conclusion
The love for sushi is on the rise in the UK and top Japanese cuisine restaurants are scrambling to be the go-to spot for sushi. That is why there are several all-you-can-eat sushi buffet joints in London. As you know, flavor and taste vary from restaurant to restaurant. You want to go to a place that offers the best sushi, at an affordable price and delivers an exceptional customer experience.