Foods are the best in India. Indian food varieties have their attraction worldwide. Food becomes a source of expressing our love and gratitude towards others. If someone praises the food you made, the happiness you feel is priceless. Food has that much power to rule anyone's heart. Some people target healthy foods, while many others prefer taste before it. In that case, the territorial touch of all the Indian foods is unbelievable and challenging to decipher.
It is an understatement to say Indian foods have cultural influence in other countries. Indian people immigrate to all countries in the world. But the impact is that they tend to leave a trace of our food culture where they live. In this context, developed countries are fond of our foods which is a tangible thing. London, one of those countries, also developed a specific grasp of Indian food style. Many London people also adapt to our food culture; there are tens of restaurants in London, especially for Indian foods. Some are owned by Indians, while others are of London origin. So let's know Where to find yummy and delicious Indian food in London.
Top 9 Delicious Indian Food and Restaurants In London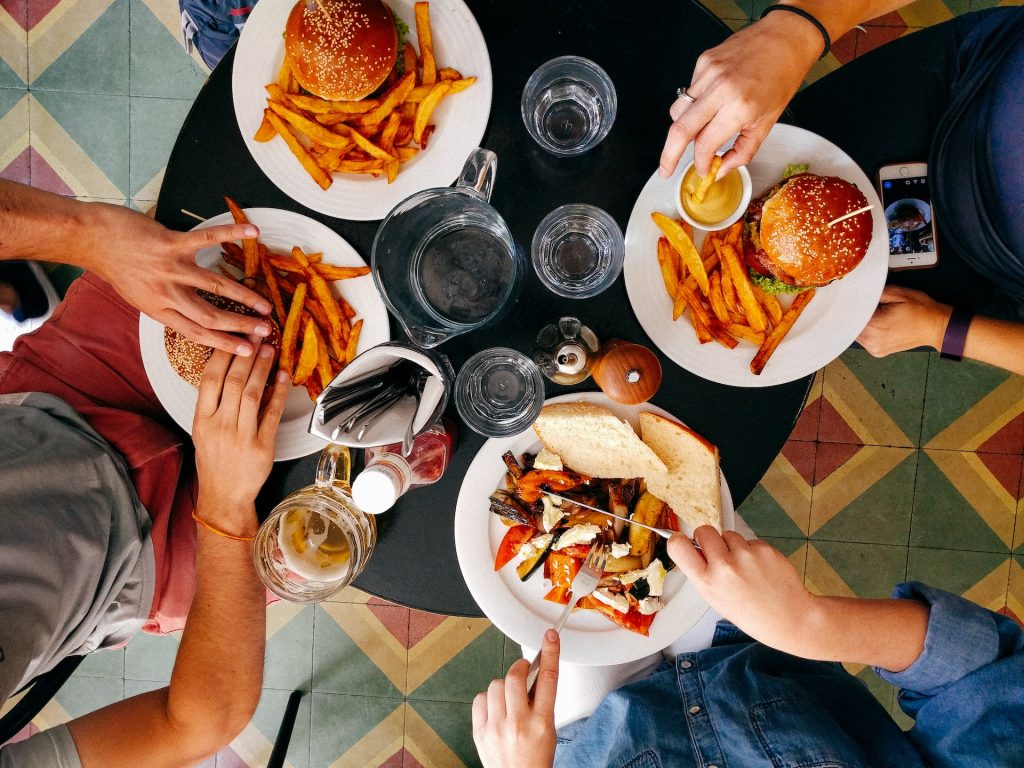 Indian foods all have their unique deliciousness. But the spicy nature is the hotspot of attraction. The restaurants' names depict the nature of the foods they serve. Following are the top-rated Indian restaurants in London for delicious Indian Food.
Dhaba@49
Little Kolkata
Dishoom
Kricket
Woodlands
Flora Indica
Tamarind kitchen
Veeraswamy
Indian Accent
Dhaba@49 Restaurant London
Indian foods are extraordinary in inviting the watching eyes to devour them. In that way, non-vegetarians are fortunate to be able to taste the crispiness and softness of the fried tandoori and dhaba chicken. Indian dhabas are the best to hunt non-veg items without any way back in the decision.
Dhaba@49 is the same as in India, providing a radiant vibe specific to dhabas. You can get a chance to try all types of fried and non-fried veg and non-veg varieties here. But a dhaba without chicken cocktails is not a complete one. So get a fortune to devour them here.
Address- 49 Chippenham Rd, London W9 2AH, United Kingdom
Little Kolkata Restaurant London
Little Kolkatta is initially a simple stock box store setup only for night supper only. It is said to be started by two hankering Indians in the streets of London. At first, it was not that famous except for the accepted bright foods. But as days went on, the business picked up, and now it is one of the best restaurants in London with all types of Indian foods and additions.
Kolkata has flavor in foods, making it stand straight in the Indian food chart. Their samosas are rich with the perfect spiciness and crispiness. They provide various flavors in their dishes. Their best-sellers are the Hilsa fish fritters and slow-cooked goats.
Address- 51-53 Shelton St, London WC2H 9JU, United Kingdom
Dishoom Restaurant
In India, every state and capital has its title foods to start with. Like, biryani has different flavors and preparation methods depending on the place. Dishoom is a Bombay-based restaurant located in London to consider the technique of food formulation. They provide various spicy and sweet dishes. The attire itself is designed upon Bombay selection.
It looks like entering Bombay's trendy cafe based on its arrangement. You cannot miss an opportunity of tasting the breakfast set of bacon naans with the spicy side dishes here. It also consists of Bombay's infamous lamb biryani. The biryani and raitha are the perfect combinations to please your taste buds.
Address- 12 Upper St Martin's Ln, London WC2H 9FB, United Kingdom
Kricket Restaurant
The restaurant was founded by chef Will Bowlby who, after completing their work in Mumbai, set up this restaurant in London to continue their passion. The chef has their unique touchup in the foods they make. Mumbai, the capital of Maharashtra, has its food hotspots for cultural specifications.
Their sweet varieties are mind-blowing, to consider the food varieties. They have their versatile food items to impress the customers, which they never failed to do. The famous Kerala fried chicken, tandoori monkfish, and curry leaf mayonnaise are their hot spots.
Address- 12 Denman St, London W1D 7HJ, United Kingdom
Woodlands Indian Restaurant
Woodlands is best known for its authentic Indian foods. As noted earlier, Indian foods are unique not only for their taste but also for their cultural contributions. Inside Indian states also, you can distinguish the uniqueness between the northern and southern varieties. But if you want to taste everything at once, Woodlands is the best voice.
Their breakfast is enough to fulfill your Indian cultural thirst by combining poha with the northern curry, obviously a mind-blowing blast of spiciness. The simple rice with sambar will teleport you directly to the center of Tamil Nadu's food yard.
Address- 1451 London Rd, Norbury, London SW16 4AQ, United Kingdom
Flora Indica Restaurant
The correct meaning of the place is The plants of India. It does not need any supernatural power to conclude that Indians are not just professional chefs but also perfect innovators. However, don't be fooled by the name; you can also have the chance to devour non-veg items. They innovatively present their foods with different ingredients.
Even though it is a newly found one, it progresses with slow steps with its delightful menu list. The pickled octopus and Jerusalem artichoke are worth one to try.
Address- 242 Old Brompton Rd, London SW5 0DE, United Kingdom
Tamarind kitchen
Tamarind is the main ingredient added to almost all the food items in India. Indians have a soft spot for this ingredient, mainly because of its enhancing and preventing properties. Moreover, tamarind has its unique notch in preservation techniques and taste enhancement. In this restaurant, you can find many spicy dishes.
Ask for the best dishes to explore more. The plum chutney given for the final touch has applause for its sharp tastiness.
Address- 167-169 Wardour St, London W1F 8WR, United Kingdom
Veeraswamy Restaurant
Veeraswamy is one of the oldest Indian restaurants in London, founded almost 91 years ago. The hotel was named after its founder, the great Veeraswamy, an army officer, and his beloved wife. This restaurant has the privilege of serving the great Mahatma and many other royals. Moreover, it was the only place with the ancient touch of all Indian foods.
The place itself mirrors a magnificent palace building with its artistic interiors. The foods are out of words to describe. The Malabar lobster surrey, tandoori prawns, and the Raja of Travancore prawn curry will take you to heaven of tastes. Undoubtedly, both Indians and locals are eager to receive a fortune to spend their time here.
Address- Victory House, 99-101 Regent St., London W1B 4RS, United Kingdom
Indian accent Restaurant
Indian accent, the name itself describes the nature of foods served here. Indian food has its special spark in it. In this restaurant, they produce varying hybrid foods by incorporating different flavors to blend with the natural Indian accent. To say the result is fantastic is the best one. They are famous for the best flavor combinations.
The chefs are highly experienced in learning the depth of Indian ingredients to pair them with the perfect partner for the absolute outcome. The infamous items are wasabi raita, parmesan papad, black pudding-filled kulcha, etc.
Address- 16 Albemarle St, London W1S 4HW, United Kingdom
Conclusions
The nine restaurants mentioned above are the top-rated Indian-style hotels in London that are presently active with trending services. Note that all the above have their own Instagram accounts and other social media platforms to communicate efficiently. You can learn more about their unique dishes and many more. Don't miss a chance to cherish the Indian flavors while in London. Make use of the passage for guidance.