Digital marketing is an important part of running online businesses. You must have the necessary skills to rank higher in the competitive market. There are various digital marketing tools that can help you remain ahead of the competition. They also provide various services which make digital marketing more fun and easier, especially for beginners. Various digital marketing tools have become the support system of online businesses these days.
There are various tools and services available online which can help you in improving your digital marketing techniques. However, you should select the best ones so that you get effective results for your website. People often make the mistake of choosing free tools to save money. The result is often disastrous, leading to immense losses on the part of the business people. Therefore, it is very important that you choose the right tools even though they are paid. The paid ones come with standard services for getting quick results.
Top-Rated Paid Digital Marketing Software and Tools Available Online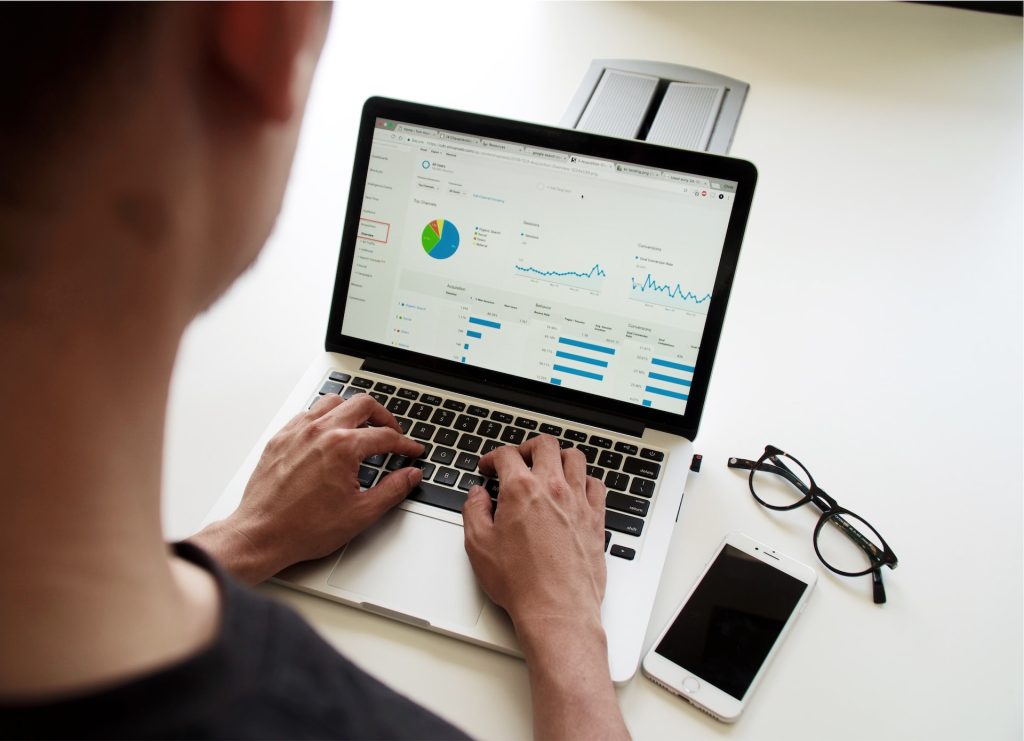 1. Google Analytics
Google Analytics will help you keep an eye on the behaviour of website users online. Accordingly, you can track their actions and build up a perfect marketing plan for your website. It is the best application to improve your search engine rankings and get the desired results soon.
Features
Check bounce rates and conversion rates.
Accurate measurement of session duration.
Calculate pages per session.
Predict product revenue.
Effectively track results.
Pros
Absolutely free of cost.
It has Google as its vendor, so it is perfectly secure.
Better results for marketing.
Detailed understanding of consumer behaviour.
Manage underperformance in the best way.
Cons
There is a lot of unwanted information available.
It needs to include important and accurate details.
Pricing according to the UK
Free
2. Canva
If you want to learn digital marketing from the beginning, Canva will be the perfect guide. You can choose suitable templates and designs for your website. Moreover, it will also help you remain ahead in the competition with positive results.
Features
Create the best ebooks.
Attractive social media integration.
Management of posts with effective guidance.
Proactive content management.
Creation of amazing infographics.
Pros
Free of cost.
Amazing collection of templates.
Great for beginners.
A better understanding of basic concepts.
Efficient error-checking system.
Cons
Fewer features than Canva Pro (paid app).
Lacks a lot of vital tools for digital marketing.
Pricing according to the UK
Free
3. Google Search Console
It is a free application provided by Google. Once you rightfully authenticate your online presence, you will be able to monitor consumer behaviour. It will help you plan things better, and also make sure that you do not miss out on the essential concepts.
Features
Best SEO techniques.
Quick solutions for marketing issues.
Great error-fixing hacks.
Better search performances.
Technically proficient in digital marketing.
Pros
User-friendly.
Timely updates.
Google backups are secure.
Regular traffic changing hacks.
Simple tools for everyday use.
Cons
Difficult to understand core aspects like charts and other information.
Ranking data is not always accurate.
Pricing according to the UK
Free.
4. MailChimp
It is the best platform for email marketing. You will be able to manage your website and send and receive emails in an effective manner using advanced tools. Not only that, but it will also improve your interaction with your customers, making it even easier for you to express your ideas online.
Features
Advanced marketing automation.
Drag-and-drop builder.
Highly targeted marketing hacks.
Attractive email composition.
Best email templates.
Pros
A centralised tool for managing your digital platform.
Perfect scheduling of your emails.
A quick check for spam.
Simple and easy to use.
Less expensive.
Cons
Limited functionality.
Less space for storage.
Pricing according to the UK
£8.67 per month.
5. Semrush
Semrush has the best digital marketing tools for your website. If you want to find out the minute issues in your online marketing techniques, Semrush is here to help you with it. Get the most authentic tools to work on, and start improving your website soon. It is going to have a great and direct impact on your online business.
Features
Profile backlinking.
Keyword searching and effective usage.
Careful auditing of your website.
Effective tracking of other websites.
A unique compilation of data.
Pros
Proactive syncing of websites.
Effective keyword researching.
Get achievable targets over the months.
Monitor your competitors closely.
Simple to use.
Cons
Faces technical issues quite often.
Quite expensive pro features.
Pricing according to the UK
£103 per month.
6. Live Chat
This tool helps you to interact directly with your customers. You can chat with them and get to know more about their interests. Accordingly, you can alter your website content and digital marketing strategies to get good results.
Features
In-built information tools.
A massive collection of templates.
Effective data syncing.
Real-time interaction with customers.
Easy integration with other online platforms.
Pros
Safe to use.
User-friendly.
Proactive interaction methods.
No third-party application is involved.
Takes up very less storage.
Cons
It can be used only for interaction.
Comes with a paid plan.
Pricing according to the UK
£16.50 per month.
7. OptinMonster
Interact with your website visitors with this effective application. OptinMonster allows you to get signed-up forms from your visitors and get information like their email addresses and contact numbers.
Features
Make creative email forms.
Reach out to the visitors uniquely.
Monitor website traffic.
Increase the attractiveness of a website.
Manipulate the thoughts and actions of online users.
Pros
Detailed analytics.
User-friendly environment.
Effective tracking.
Safe to use.
Lots of tools for web development.
Cons
You at least need a pro plan to avail yourself of all the features.
Not so effective for integrated platforms.
Pricing according to the UK
£12.15 per month.
8. SiteChecker
Analyse your website's overall performance on the web with SiteChecker. It allows users to monitor their online presence and bring about effective changes. You can easily check the pattern and competition in the market, and plan your strategies accordingly.
Features
Keyword monitoring.
Backlink tracking.
Test the on-page SEO elements.
Seamless integration with Google applications.
Effective link-building strategies.
Pros
Beginner-friendly application.
Lots of unique tools for data monitoring.
Enables quick interaction with other users online.
Ensures that your website is SEO-friendly.
Increases audience reach.
Cons
No accurate measurement for website traffic.
Expensive for daily use.
Pricing according to the UK
£25.18 per month.
9. Grammarly
This app checks your grammatical errors and provides an error-free document quickly. If you are not sure about great content creation, you should definitely use Grammarly. It will ensure that you have completely error-free content for your website.
Features
High-quality writing techniques.
Automatic error corrections.
Compatible with all content-creating apps.
Detailed suggestions.
Additional accuracy on style and use of words.
Pros
Highlighted sections of errors.
Get error-free documents in no time.
Detailed analysis.
Simple to use.
No app installation is required.
Cons
It often makes mistakes in sentence management.
The document gets automatically stored without prior notification.
Pricing according to the UK
£13 per month.
10. Cloudflare
It is the best software tool when it comes to website design and security. Whether you are searching for good content, or even unique digital marketing strategies, this app is going to do wonders. Make sure that you use this tool at least once for online marketing to get better results.
Features
Great content delivery.
Vital security pop-ups.
Perfect SEO techniques.
A globalised pattern of website information.
Unique strategies for online marketing.
Pros
Offers the best content.
It looks after website security.
Proactive control on your website.
Easy integration.
Simple and effective tools.
Cons
It often blocks genuine customers from visiting your website.
Frequent website drop-downs occur due to added traffic loads.
Pricing according to the UK
Free ( for standard features), £17.35 (for Cloudflare Pro).
Get The Best Digital Marketing Tools For Your Website
If you are serious about your online business, you should make every effort to improve the techniques of providing services. Digital marketing tools will do the magic and will attract search engines in a great way. You might initially miss out on certain points on your website, but the tools will make sure that your content looks great. Not only that, but they will also ensure that your website is able to get more audience within a short span of time.