It is an understatement to say Indian foods have cultural influence in other countries. Indian people immigrate to all countries in the world. But the impact is that they tend to leave a trace of our food culture where they live. In this context, developed countries are fond of our foods which is a tangible thing. London, one of those countries, also developed a specific grasp of the Indian food style. Many London people also adapt to our food culture; there are tens of restaurants in London, especially for Indian foods. Some are owned by Indians, while others are of London origin.
Punjabi dishes are significantly meant for their buttery-rich flavors extended in vegetarian and non-vegetarian directions. Punjabi foods are better known for their diverse flavors and dish varieties. The infamous tandoori chicken with a tint of cheese explores crispiness and creamy nature. Most traditional Punjabi foods are Paneer Tikka, Rajma Chawal, Butter Chicken, Amritsari Fish, chana masala, etc.
Best Punjabi Restaurants In London For Delicious Punjabi Food
Punjabi foods are mostly wheat based with onions, garlic, and ginger based with various vegetables. The non-veg items include all types of fish, chicken, prawns, etc. even though there are specialized non-veg items, their vegetarian dishes are phenomenal in their way. The shade of cereals, spices, and vegetables, along with butter and cheese, are a sight to see more to eat. They are known worldwide for people fond of Indian foods.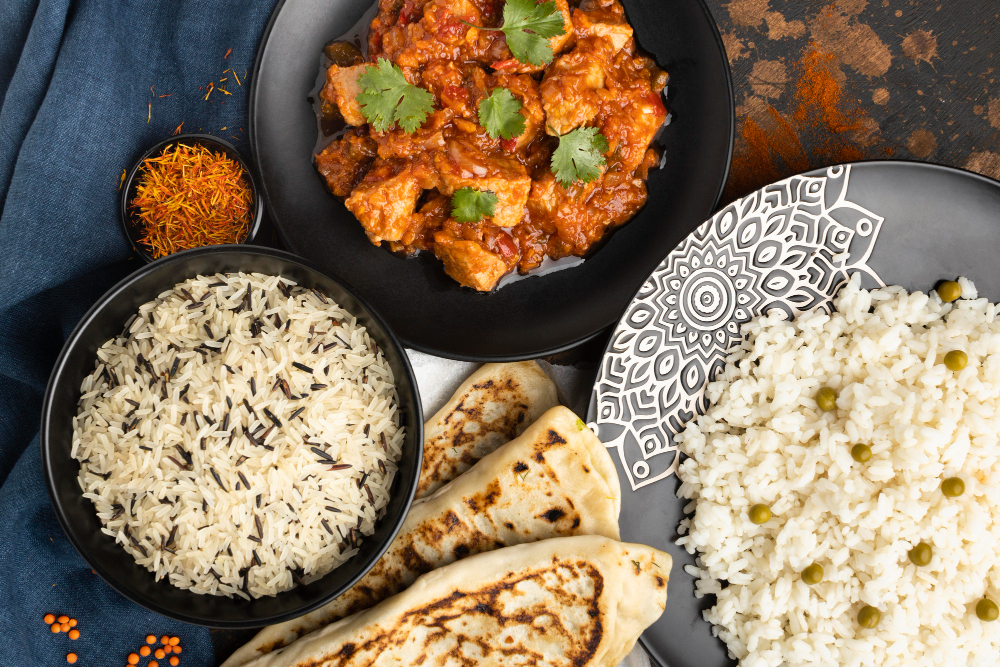 1. Chandni Chowk Restaurant
The restaurant is named after a famous, acclaimed restaurant in Delhi. Ve Punjabi foods have unique footprints but can be used in a broad spectrum. Get to see the Chandni Chowk in Southall while in London.
Their flatbread with mustard green curry is quite a top-notch spiciness to experience. Also, don't miss a chance to explore paneer jalfrezi, masala chicken, and dal makhani in their Punjabi origin. The place is a two-floor building with a cafe situated on the ground floor and a spacious sitting area on the upper floor.
Address- 106 The Broadway, Southall UB1 1QF, United Kingdom
2. Brilliant restaurant
The restaurant is said to be founded over 40 years ago by Kenyan influences. Their menu list consists of several unique dish varieties. You can select healthy and unhealthy foods on their menu based on added ingredients as the same as limited and unlimited meals.
The foods are influenced by their Kenyan heritage as a reflection of their origin. So don't miss your chance to taste their tandoori chicken, palak paneer, and tarka dahl. They are outstanding in hospitality and quite famous in their surroundings.
Address- 72-76 Western Rd, Southall UB2 5DZ, United Kingdom
3. Roxy's restaurant
It is located in the street of Southall, London. In simple words, Southall is the street of Indian foods, especially of Punjabi origin. The Roxy's restaurant was first named Sagoo and Thaker, now renamed New Asian Tandoori. The initial name is confusing, but the place is best for its cheap and tasty dishes.
The annual Punjabi fair takes place here, which attracts people's attention every year and is one of the reasons for their success. Their top-rated dishes are chana bhatura, a type of chicken curry spritzed with fried pieces of bread, and karela, a bitter gourd dish as a weekend special.
Address- 14-118 The Green, Southall UB2 4BQ, United Kingdom
4. Dhaba@49
Indian Punjabi foods are extraordinary in inviting the watching eyes to devour them. In that way, nonvegetarians are fortunate to be able to taste the crispiness and softness of the fried tandoori and Dhaba chicken. Indian dhabas are the best to hunt non-veg items without any way back in the decision.
Dhaba@49 is the same as in India, providing a radiant vibe specific to Dhabas. You can get a chance to try all types of fried and non-fried veg and non-veg varieties here with Punjabi tastiness. A Dhaba without chicken cocktails is not a complete
Address- 49 Chippenham Rd, London W9 2AH, UK
5. Ranka Punjab Diyan Restaurant
It is a simple yet cozy restaurant that makes you feel at home instead of those sophisticated ones. The foods are delicious in taste and flavor and have a long list on the menu. The menu mainly comprises tasty Punjabi dishes, especially traditional ones.
You don't have to worry about the bills, because the dishes are relatively cheap. Amritsari fish, spicy chicken, kadhi pakora, yogurt curry, and chicken dumplings are the most adored food varieties.
Address- 464-466 Lady Margaret Rd, Southall UB1 2NW, UK
6. Delhi Grill Restaurant
The grilled chicken highlighted with sprinkles of cheese and coriander is a dish to try for a lifetime. Delhi grill is a top-rated Punjabi restaurant in London that is quite known for its interior designs of Bollywood-oriented posters. The place is settled for roadside eaters providing a good variety of dishes that even a five-star hotel will envy.
The menu is short, with only slow-cooked foods, which are extensively demanded during their opening time. The menu's top-starred items are fish tikka, lamb samosa, and goat bone soup.
Address- 21 Chapel Market, London N1 9EZ, UK
7. Tamarind Restaurant
Tamarind is the main ingredient added to almost all the food items in India. Indians have a soft spot for this ingredient, mainly because of its enhancing and preventing properties. Moreover, tamarind has a unique notch in preservation techniques and taste enhancement. In this restaurant, you can find many spicy dishes.
Ask for the best dishes to explore more. The plum chutney given for the final touch has applause for its sharp tastiness. Not only Punjabi foods but all types of Indian foods are also gifted with an ability to mend with foreign ingredients. This quality makes it more flexible for general uses.
Address- 20 Queen St, London W1J 5PR, UK
8. Punjab Restaurant
It is one of the oldest North Indian restaurants in London, served by generations after generations of the founder. The restaurant has an eye for all types of customers from all over the world. The locals and foreigners will be fascinated by their hospitality and food varieties. Not to mention the infamous Punjabi grip over their taste buds.
Their best-known item is the Butter chicken, which is also one of their traditional items. Their popular items are mango lassi, samosa with sauce, papadum, chicken korma, and butter naan with channa.
Address- 80 Neal St, London WC2H 9PA, UK
9. Kesar Punjabi restaurant
The name denotes their food style as Punjabi, located in Charlton, London. The foods served here are of high standards with excellent presentation cooked by Internationally experienced chefs. The dishes are authentic to Indian nature, which is not eradicated from your mouth easily.
They meet almost all dishes to satisfy their customers' needs. You can get Pani puri, spring roll, papdi chaat, lamb karahi, etc. So don't miss out on tasting their garlic naan with Punjabi chicken as a side dish; you will never regret the decision.
Address- 192 Woolwich Rd, London SE7 7RA, UK
10. Madhu's of Mayfair
The items are not expensive and reach the taste center of your brain. The Punjabi dishes are adored with the territorial taste pinch, making them more special. Their infamous items are Bhalla papri chat, a street snack of lentil dumplings and tamarind sauce, butter chicken, Amritsari dal, and lamb chops.
Address- The Dilly Hotel, 21 Piccadilly, London W1J 0BH, UK
Conclusion
The ten restaurants mentioned above are the best Punjabi hotels in London that are presently active with trending services. Note that all the above have their own Instagram accounts and other social media platforms to communicate efficiently. You can learn more about their unique dishes and many more. Don't miss a chance to cherish the Indian flavors while in London. Make use of the passage for guidance.